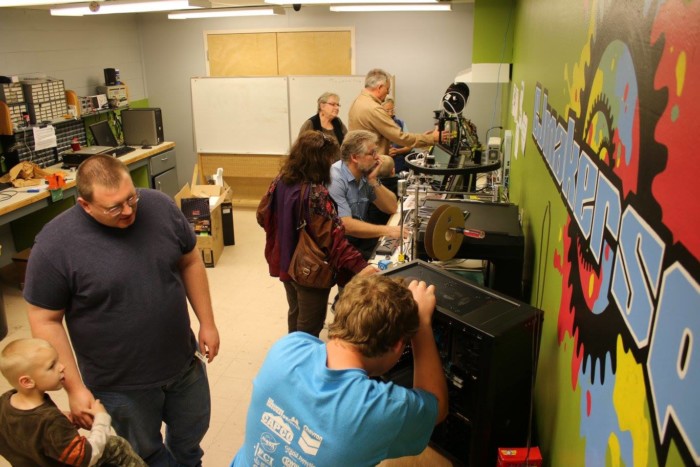 Oct 15 2018 In
News
The Space is Where the Making Is
This month the Colorado Maker Hub will be focused on communicating the Making in Colorado. We will post a topic each week sharing the awesomeness in the Colorado maker community. This week I will focus on the variety of spaces in Colorado and how you can connect with a space near you.
To paraphrase the common Home is where the Heart is I'll say The Space is where the Making is.  To make many of us have a space or are looking for a space that we feel comfortable with to 'get in a zone' for our making.  Either it's the equipment, readiness of supplies, mentoring, open space and / or surrounded by inspiration, every maker is trying to have that space to help them 'get in a zone'.  Many makers from technology, crafts, quilting, food, biotech and all the ranges of making are finding this 'zone' in their local DIY spaces.  Sometimes it's the access to equipment for others it may be the community of support to nudge them to that next fascinating project, but regardless of how you happen to open that door to coming to a space, the trend is growing and folks are finding their tribe.
Across Colorado there is a very strong presence of DIY spaces with a current count of 68 in our directory and that doesn't count all those in academia or in-home!  The characteristics below also correlate in academia where spaces are growing in availability in both K-12 and college levels.  We have grouped makerspaces, co-working spaces, studios, etc into our DIY spaces.  If they have a physical space to make and they provide the environment to 'get into a zone' for independent projects by their patrons we have identified the organization or business as a DIY space.  Each is different and as you look into each you may discover the uniqueness that each can provide you through the following characteristics:
Space:  It has to have a physical space…to be a space.  We know there are many other ways to connect and share knowledge through meetups and online, but a key characteristic to those listed in our DIY spaces is that they do have a physical space.  Either city owned or as a lease there is a commitment to have a physical space for patrons or members to come make.  It is their home away from home.  And remember making happens there, so sometimes things may be in disarray!
Equipment: Access to equipment is a key value-add of spaces to their community.  This can range from the minimum such as a shared desk with internet access to a full range of machines for making clothes, furniture, electronic boards, signage and yes, even food and biotechnology.  As individuals it may be hard for us to either have the space at home or financially to have a specific equipment as our own.  Some businesses are even taking this route and getting an business membership for their employees to come utilize the equipment.
Governance:  The governance of spaces range from your local library accessible as a resident of the area to nonprofits that are governed by their membership.  There are also spaces that are in-between like an artist's studio or small maker business in which they have opened their doors to other artists and makers in the use of their equipment and space under an agreement either verbally or in writing.  As you look at a space ask yourself if you could be a part of the processes that are in-place and maybe even be willing to lead.  If you are aren't happy with the processes surrounding the space, it might eventually drive you out or you may not be able to 'get into your zone' to make.
Community & Culture: Which brings us to the community and culture…Each space has a vibe. This vibe is provided by it's community and the types of making that occurs in the space. Every space is different based on this vibe, especially through the community members that are there in the space on a frequent basis whether young or experienced.  I've heard the following said many times about spaces…."You first come for the space or equipment, but you stay because of the community."  This is so true for many of the spaces that have been around for awhile!
Services: When looking at services provided many that are ready and knowledge such as a small business owners, may look to see if there is 24/7 access to the equipment or their workspace.  Many membership spaces and studios do have card or key access for its community.  If you are not ready to go yet and looking into getting into a new area of making, then you might want to see if they have regular classes, groups or individuals willing to help you along with your new project.  Everyone is different in how they learn, so you will need to see if the space provides you with the support you need.   Some spaces have programs that engage teams on a common project either for fun, a competition or even business opportunities bringing in funding.  While others may engage their members in sharing knowledge to build the capabilities within their community.  Some spaces may even provide access to shared resources and information to help each other make and improve the capabilities of their community.
What are your needs as you make?  Some visit or join a space for just one of the reasons above…which is the one that would drive you to Take A Tour of a space near you?  Check out our DIY Spaces listing to see if there is a space close to you.
---